Front Magazine FRONT Issue 162 - SOLD OUT - Front Issue
- Price: $8.99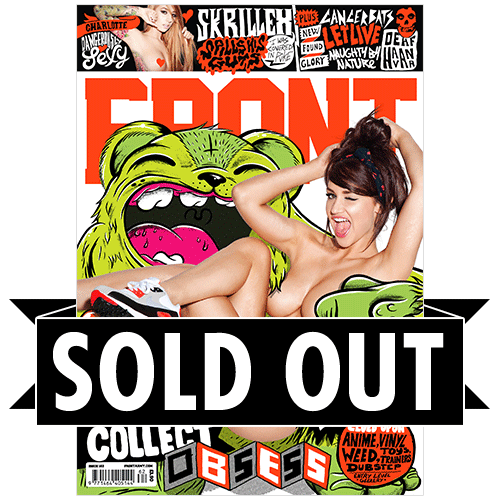 Do you like this item?
Front Magazine - FRONT Issue 162 - SOLD OUT - Front Issue
Customers Who Bought This Item Also Bought
Product Details for Front Magazine - FRONT Issue 162 - SOLD OUT - Front Issue
Here's what's in the mag:
COLLECT, OBSESS, EXPLODE
Discover how to get into everything from anime to comics to weed with our entry-level obsessions feature, your gateway to all kinds of geekery. You'll be transformed into a vinyl-toy-collecting MMORPG-fixated ale-chugging pothead with an enormous record collection in no time at all. Amazing.
KITTY LEA SHOWS OFF IN STYLE
The amazing return of the incredible Kitty Lea, sporting the finest streetwear threads around.
EXTREME PRANKING
Putting "Kick me" on someone's back is so 2009. Embrace the future of practical jokes with our super-extreme guide to punking your pals. Note: for at least one of them you need medical training and access to surgical equipment. It'll be worth it when you see the look on their idiot faces though!
MISFITS: STILL A BIG DEAL AFTER 34 YEARS
They've got one of the best-known logos in the world, but is that enough to have kept them going this long? FRONT takes a look at one of the most iconic bands in history.
SKRILLEX SPILLS HIS GUTS
Everyone's favourite bespectacled knob-twiddler shares tales of being sick and offending people with dreadlocks.
There's all this plus Cancer Bats' Liam showing off his tattoos, Naughty By Nature talking old-school hip-hop, New Found Glory skipping over each other, Deaf Havana having good times with cake, a guide to drinking your own wee, amazing Alt Girls and more, more, more!
More Items from Front Magazine