Front Magazine FRONT Issue 156 - Front Issue
- Price: $8.99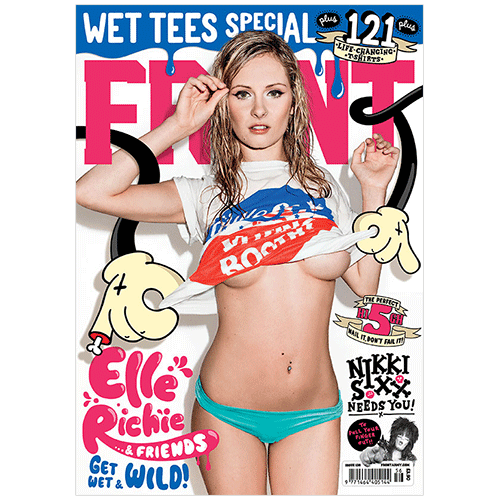 Do you like this item?
Front Magazine - FRONT Issue 156 - Front Issue
Customers Who Bought This Item Also Bought
Product Details for Front Magazine - FRONT Issue 156 - Front Issue
Headlining our wet and wild summery special issue is the delectable, and frankly ridiculous-fit, Elle Richie.

She`s joined in a series of super-soaked frolics by fellow ridicky-fitties Lauren Fernandez, Tabby Farrar and Emily Johnson. Swimming pools haven`t seen such a mind-blowingly sexy line-up since Hugh Hefner had his naked Playboy girls try out for the US Olympic relay medley team.

Elsewhere in our 150-page blockbuster, it`s our annual ass-kicking t-shirt extravaganza. Check out the 121 bestest tees to wear this summer – you saw them here first, probably.

Then there`s our exclusive interview with legendary Motley Crue star Nikki Sixx, who reveals all about the good ol` days of rock `n` roll, and his new-found love of cooking.

We`ve got the Ten Commandments of Summer, which will help to ensure you enjoy the most amazeballs season in history.

Plus Black Veil Brides, Rise To Remain, Glamour Of The Kill and the usual combination of brilliance, extravagance and nonsense that you scumbags have grown to love like a brother.

Basically, in summary, issue of 156 is jam-packed full of 150 pages of awesomeness.


More Items from Front Magazine