Front Magazine FRONT Issue 167 - Front Issue
- Price: $6.99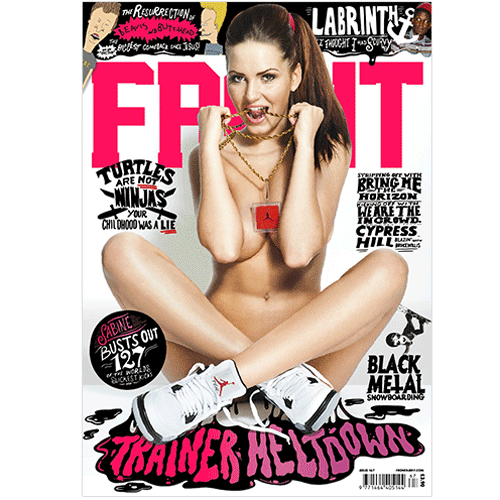 Do you like this item?
Front Magazine - FRONT Issue 167 - Front Issue
Customers Who Bought This Item Also Bought
Product Details for Front Magazine - FRONT Issue 167 - Front Issue
This issue is also available with a special edition topless cover, limited to just two hundred copies and signed by Sabine.

Man oh man, this new issue's a doozy. If we were you, we'd buy it immediately. Here's just four of the many aspects that make this new mag probably the best thing ever:


SABINE, COURTNIE AND ALICE'S TRAINER-CLAD AMAZINGNESS
Containing three girls, six feet, a buncha kicks, a few sofas and very little in the way of sensible clothing, this cover shoot was recently rated by the United Nations as "fucking sexy". Amongst other things, it features cover girl Sabine eating a bowl of shoelaces. Think about that for a sec. Eating a bowl of shoelaces. Have you ever seen that before? Have you FUCK. There's also our Trainer Meltdown feature, with a shit-ton of shoes so awesome, they almost already have feet in 'em.


THE RETURN OF BEAVIS AND BUTT-HEAD
As everyone's favourite mentally-challenged duo prepare to return to UK screens, we take a look at everything that makes them great, from how they could single-handedly destroy shitty bands to their invaluable contributions to the English language.


LABRINTH MIGHT HAVE SCURVY
The only friend Simon Cowell has that he didn't meet on a fucking talent show tells us about how he thought he had a nautical disease and is yet to do it with a Chinese lady.


THE DARK SIDE OF YOUR CHILDHOOD HEROES
Have you ever thought about the reality of Malcolm In The Middle's psychological problems? Or how Dennis The Menace pretty much set his dog on gay people? These pieces of hideousness and more will ensure you can never watch Sooty in the same way again.

PLUS PLUS PLUS PLUS PLUS!
B-Real from Cypress Hill talking about when he got high with Bruce Willis
We Are The In Crowd sharing party tips
Doughnuts tested and rated
A mixtape compiled by the dude from Behemoth
Jona from Bring Me The Horizon showing off his tattoos
AND the truth about the Titanic, black metal snowboarding, trick shots, Sharks, The Hundreds, sexy Alt Girls, Andrew W.K., Hildamay, black metal snowboarding and the return of the magnificent Cala.

It's a good fuckin' magazine, you guys!
More Items from Front Magazine