Front Magazine FRONT Issue 128 - Front Issue
- Price: $23.99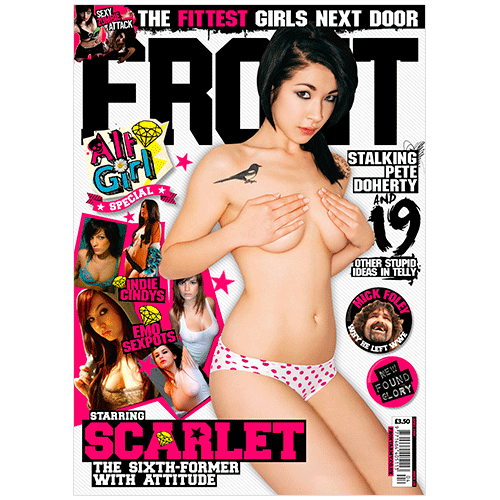 Do you like this item?
Front Magazine - FRONT Issue 128 - Front Issue
Customers Who Bought This Item Also Bought
Product Details for Front Magazine - FRONT Issue 128 - Front Issue
ALT GIRL SPECIAL
APRIL 2009 A celebration of Alt Girl awesomeness (altsomeness?) led by amazing cover star Scarlet, and accompanied by loads more living examples of radness.
FRONT`S GUIDE TO VIRGINITY: A far too in-depth investigation into the art of not having had any sex yet. HOUSE OF THE DEAD: Foxy ladies being zombies. Brilliant.
GENIUS FUCKING IDEAS IN TELLY: Postman Pat having a fucking helicopter? What a load of shit.
MICK FOLEY: A chunky interview with the wrestling legend. KELLY: The best thing to come out of wherever she`s from since sliced bread. AWESOME MUSIC:
New Found Glory, In This Moment, Sebastien Grainger, Master Shortie, Notorious BIG, Furthest Drive Home and even goddamn more...
PLUS: Sim-Wise, Von, Cunts, lies, Super Hans, Chris Ryan, Mate In A State, increasingly-surreal jokes about naked women, and way, way more.
More Items from Front Magazine