Pussy Riot Free Pussy Riot (Unisex Pink) - T-Shirt
- Price: $14.99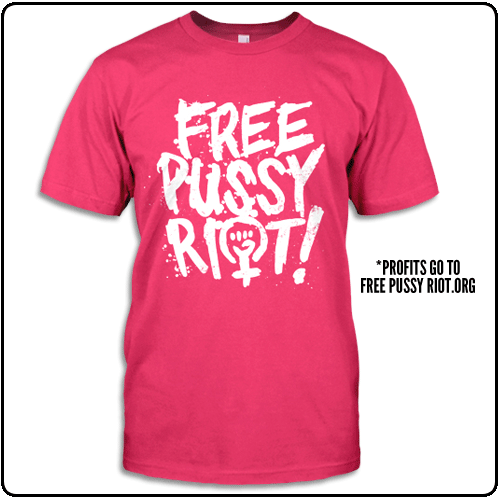 Do you like this item?
Pussy Riot - Free Pussy Riot (Unisex Pink) - T-Shirt
Customers Who Bought This Item Also Bought
Product Details for Pussy Riot - Free Pussy Riot (Unisex Pink) - T-Shirt
REDUCED TO CLEAR
--------------------------------
IMPORTANT INFORMATION. THERE WILL BE NO FURTHER RE-PRINTS OF THIS ITEM. PUSSY RIOT NOW HAVE AN OFFICIAL MERCHANDISE DEAL AND WILL BE RELEASING THEIR OWN MERCHANDISE ONLINE SOON. ONCE ALL SIZES AND STOCK HAVE BEEN SOLD OF THIS ITEM, IT WILL BE DELETED FROM OUR STORE. REMAINING STOCK IS NOW LIMITED. WE WILL, OF COURSE, CONTINUE TO SEND ALL PROFITS TO THE OFFICIAL FUND FROM THE SALE OF THIS ITEM WHILST THOSE STOCKS LAST. THANKS TO EVERYONE FOR HELPING US SUPPORT THE PUSSY RIOT 3. HERE'S TO FREE SPEECH AND VIVA LA PUNK
Pussy Riot are a Russian feminist performance art group and punk rock band. Three members, Ekaterina Samucevich, Nadezhda Tolokonnikova and Maria Alekhina, have been sentenced to 2 years each in prison for an alleged one minute performance in a Moscow church. They are currently beginning the process of appeal.
This is not an official T shirt. BSI Merch wanted to do something off our own backs to raise funds and awareness. We did this to help in the spirit of punk rock.
ALL
BSI Merch's profits raised from the sale of these T shirts will be sent to the Free Pussy Riot fund to help with expenses that range from case related to the women's needs while in pre-trial detainment and for their children's needs. Pussy Riot legal defense fund is administered by the women's lawyers.
More information
here
You can take action with Amnesty International's SMS Action Network
here
More Items from Pussy Riot