Front Magazine FRONT Issue 173 - Front Issue
- Price: $6.99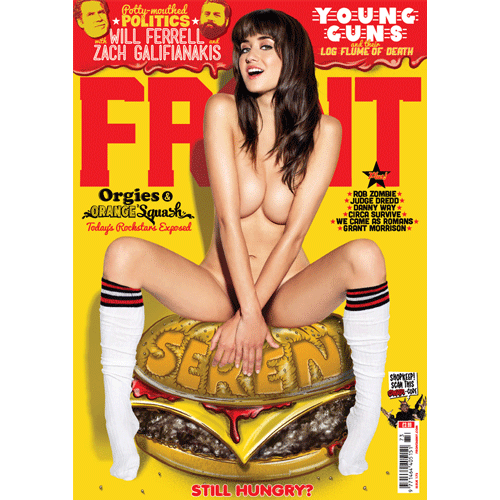 Do you like this item?
Front Magazine - FRONT Issue 173 - Front Issue
Customers Who Bought This Item Also Bought
Product Details for Front Magazine - FRONT Issue 173 - Front Issue
Seren...The sexiest girl from Wales ever reveals her secret vices, or, as we've intelligently named them, Seren Deadly Sins. That's real clever, that is. Oh, she's super-naked inside, too. Just so you know.

ALSO...
Potty-mouthed politics with the funniest men alive WILL FERRELL and ZACH GALIFIANAKIS, one dangerous day at a theme park with YOUNG GUNS, mega mixtapes with ROB ZOMBIE, the metallest BBQ imaginable with GWAR , birthday celebrations with JUDGE DREDD , drawing semen with comic book hero GRANT MORRISON, humungous skate legends DANNY WAY and STEVE CABALLERO, a look around Anthony Green of CIRCA SURVIVE's place, rock'n'roll reality with FEED THE RHINO, upcoming tour lowdowns with WE CAME AS ROMANS , tattoos explained with OBEY THE BRAVE and lots and lots of weed with MIKILL PANE.
PLUS...
Cruiser decks, intelligence gone extreme, zombies, beer bongs, stuffed crows, life-saving wolves, stacks of backpacks and a tattoo of Bananaman. Fuuuck, it's so big! Why not beat the crowds of frenzied people out on the street and grab here.

Thanks for listening, and stay rad.
More Items from Front Magazine