Front Magazine FRONT Issue 155 - Front Issue
- Price: $8.99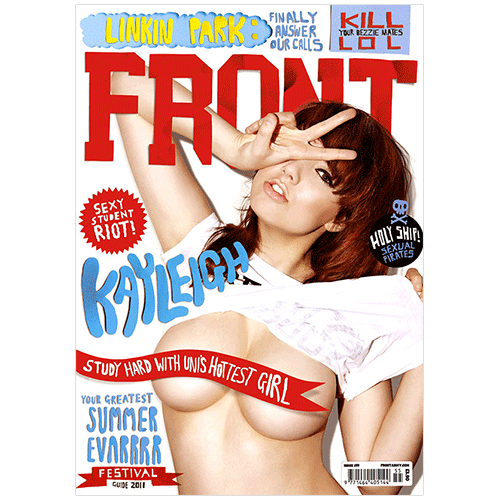 Do you like this item?
Front Magazine - FRONT Issue 155 - Front Issue
Customers Who Bought This Item Also Bought
Product Details for Front Magazine - FRONT Issue 155 - Front Issue
In the words of Alf Stewart,`stone the flaming crows.` Because issue 155 of FRONT has only gone and thrust itself onto the shelves of all good magazine-selling shops (and is also readily available to order from HERE now.) With our latest release comes an almighty array of ridicky-fit treats for you lucky fucking blighters.

It all kicks off with our inconceivably-fit cover star, Kayleigh Mallen, who's invited you all around to her giant student palace for pizza, booze, promiscuous frolics and a multitude of mayhem. Does that sound like a bit of you? Thought so.

Elsewhere we map out what will become your greatest summer evvvvaaaarrr with our all-bases-covered guide to the 2011 festival season – from Croatia to Croydon with a sprinkling of Port Lympne, which is Kent, in case you were wondering.

Then we`ve got Linkin Park`s Chester Benninton on his journey from Burger King to the big time, plus tips on how to become the nastiest most evil bastard in the history of horror films.

Oh, and don`t forget the usual caboodle of fucking ace stuff that you have no doubt been craving for the past few weeks. Now hurry up and feed the craving, you know it makes sense.

More Items from Front Magazine