Front Magazine FRONT issue 170 Limited edition signed cover FRNT425 - Front Issue
- Price: $8.99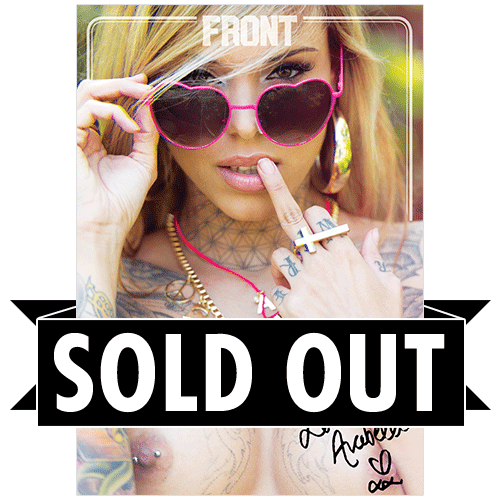 Product Unavailable
You may also be interested in

Do you like this item?
Front Magazine - FRONT issue 170 Limited edition signed cover FRNT425 - Front Issue
Customers Who Bought This Item Also Bought
Product Details for Front Magazine - FRONT issue 170 Limited edition signed cover FRNT425 - Front Issue
This is the special limited edition topless cover version of issue 170, limited to just 200 copies and signed by Arabella. Please note, we are waiting for Arabella to sign these, they will ship shortly.

It may not look it outside, but thank the fucking heavens summer has arrived. The nights are longer, the girls are sexier and the shorts are shorter and to celebrate, we've brought all those things together for one of the most incredible magazines anyone has had the pleasure of seeing. We've got the sexier than anything ever Arabella back on the cover in shorts shorter than the shortest thing in existence (Short Wee "Shrimps" O'Malley, a tiny leprechaun who lives in a thimble). Has summer just got amazing or what? Here's a sneak peek at Arabella's shoot, and even more amazingness that you lucky sausages have in store this month:

14 PAGES OF ARABELLA THAT'LL BECOME YOUR NEW FAVOURITE THING EVER

The sexiest pirate to ever grace the pages of FRONT is back, and she's more jaw-flooring than ever before. This time she's revealing her tips for sailing the seven seas this summer all while looking so fit that you'll want to put these actual pages inside you brain to think about forever. You're a bit odd like that, y'see.

REVEALED: FRED DURST'S 500 HAT SHAME!

We grabbed the the man under the red cap to talk the future of Limp Bizkit, being essentially homeless and having a more hats than anyone else in the universe. PLUS: We present to you, our loyal reader, a very scientific graph of the fifteen most unexpected, ridiculous and down-right insane lyrics from Limp Bizkit ever, including the genius "Spit on a boy named Tina from Pasadena" from Show Me What You Got. Brilliant.

TWO OF THE BEST NEW GIRLS YOU'VE EVER SEEN!

If our arms were strong enough to pat ourselves on our backs, then we bloody well would go and do so. This month you get an extra double helping of lady loveliness, this time in the shape of skinny dipping, piercing-loving, One Direction-destesting Bella, and our favourite find from five issues ago Danielle. Fuck yes!

37 ROCKSTARS REVEAL THEIR ALL-TIME HEROES WITH DON BROCO

We've gone and grilled some of music's finest to find out who made them the people they are today. Prepare to get super inspired by Bring Me The Horizon, Enter Shikari, Taking Back Sunday, Young Guns, Architects, Deaf Havana and fistloads more, all held together with five of the bestest photos of Don Broco you'll ever see.

ONE OF THE GREATEST SKATEBOARDERS EVER FINALLY ANSWERS OUR CALLS: JAMIE THOMAS

It may have taken us a whopping two years to get him, but at long last one of the most inspirational skaters to shred the land is in FRONT Magazine. Jamie Thomas talks how his legendary Leap Of Faith almost never happened thanks to a dead bird, how his company Zero Clothing all started from stealing cigarettes and why he's beginning to look less and less like a Christian. High fives for this one, everyone.

BUT WAIT, THERE'S EVEN MORE!

We've got in-the-studio pics with Gallows, acting lessons from Nicolas Cage, beer bellies with Turbonegro, chatting comics with Noel Clarke, mega mixtapes with Taking Back Sunday, eternal health with Andrew WK, Bong Jumps at the Olympics, fashion and football with Architects, smoking weed with Emmure, talk of tattoos with Alkaline Trio and how to rip the ribs out of a pig. Try that on for size. We bet it's WAY TOO BIG for you.
More Items from Front Magazine