Imogen Heap Heapsongs Deluxe Album Box Set - Deluxe Album Box Set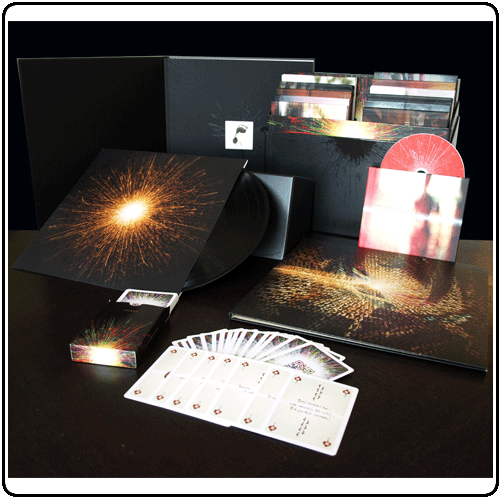 Description

Immi has almost finished her album but there's one remaining piece of the puzzle:

What's that?


Read more

Read less
The unique special ticket contained within is made from a one-of-a-kind paper containing various items that Immi's connected to the making of the songs on this album. So the stuff blended in the video is actually making up the unique ticket and address label in this box set. Immi wanted you to be able to share some physical pieces of inspiration for this record.

The ticket is also a way for Imogen to thank you in person for helping her complete the album by way of your footprints. This will give you access to one of her sound checks for the tour to follow this album where you'll meet her in person and see her testing her gloves, gear and practicing with her band.

For the first 100 pre-orders received, complete with footprints, Imogen is inviting you to come and pick up the box in person from her house. It'll be a relaxed affair with time to chat, hanging out with her at home. Food and drink's on her but you have to get there! It's about an hour out of central London.

So that's just for starters! Here's all the rest of the stuff you'll get:

12 of them are the Heapsongs as studio quality audio files, including HD making-ofs of each song and each packaged in beautiful case bound books with a 16 page colour booklet designed by Imogen and her artwork designer:



Lifeline


Neglected Space


Xizi She Knows


You Know Where to Find Me


Entanglement


Bhutan


Me the Machine


Propeller Seeds


Minds Without Fear


The Listening Chair


Telemiscommunications


Runtime


The other 2 discs are at the back of the journey-book, one is the LP in audio-cd format, and the other is a dvd containing all video material from the box set and a special making of album documentary roundup, playable as DVD.



There is a deck of 52 playing cards containing exclusive additional content on one side and an interactive element on the other, enabling exclusive experiences including the ability to unlock content within Imogen's new website.


A first for Immi, the box set includes a double 10" vinyl version of the 'Heapsongs' LP in a gatefold sleeve


An amazing 120 page coffee-table-style book telling the story of the making of Heap Songs in print, giving you an exclusive insight into Imogen's journey using the stunning photographs gathered for this specifically from Imogen's personal collection.


And as we've mentioned, 2,500 slots for being included in the cover artwork and get a unique 'golden ticket' opening the doors to one of Imogen's sound checks on her 2014 tour.


All Heapsongs are delivered to you digitally on the day of the album's release, so you do not have to wait (unless you're coming to her house)!


Delivery of the Deluxe Box Set is planned for early 2014. The exact date will be announced shortly. We promise to make it happen as soon as possible!

*On pricing:

Due to the exclusive and unique nature of this Box Set, we are still in the process of making the decision whether the Box Set can actually be made in the exact way we want it to be.
The order price is inclusive of local sales taxes but does not include shipping/postal costs. These are shown separately and we have managed to include most territories with an insured and signed for service hopefully ensuring safety. If you are ordering from a territory not covered by those shown please contact us via the link on the order page for us to try and find a solution for you. It's now up to you to show us your support and let us know we were right when we decided to embark on this slightly (completely) crazy venture. Thank you.
Read less
Choose your payment plan
Price: $299.99
This is a PRE-ORDER item
Shipping Starts on 3-May-2014
Video: Immi explains the box set
Do you like this item?
Imogen Heap - Heapsongs Deluxe Album Box Set - Deluxe Album Box Set
Customers Who Bought This Item Also Bought
More Items from Imogen Heap